A little post, with a few borrowed excerpts, over the iDEAL oRDER/Psychic TV phenomenon.
IdEAL ORDER was founded in 1982 as an outlet for anarchic/artistic activism by Elsie Russell and Jeffrey Harrington. The intent was twofold: to create collaborative and issue-oriented art which was designed to provoke a chaotic zen consciousness in the viewer and to create an awareness of the telepathic activism of Jeffrey Harrington. Disappointed with the usual formats of political art (the poster, the tabloid text-based format, i.e.) they began experimenting with new techniques employing subliminal messages; loading images with beautifully chaotic texts and setting them in unusual public situations/contexts.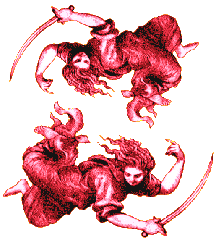 It's a door out of a burning house if you believe the innumerable meanings.
The initial works of IdEAL ORDER were displayed in the subways and streets of NY City in 1982 and 1983. First there were a series of heads of the Greek gods pasted on the streets of NY. The intent was to take graceful beauty out of the museum and back to the streets, hoping to provoke sudden bursts of deep aesthetic appreciation in the unsuspecting public. The second project was called "The Seven Seals." It was designed as a series of pseudo-religious confrontational rubber stamp image/text formations stamped on the street and in the white spaces of subway placards. Their largest installation to date was at the infamous School Book Depository in the lower west side docks of Manhattan. (Closed by a police action in July 1983).
During the same period while Jeffrey was employed at Liberty Audio/Video he had begun experimenting with a capability developed as an offshoot to his Zen meditative practices. He discovered that he could cause broadcasting television camera lenses to glow. He began using this luminescent effect as a tool to harass media and politicians. The process is called IdEAL ORDER Psychic TV.
IO Buddha and The Raphaelesque Angels
Please note that there is no connection between the Genesis Breyer P-Orridge music band Psychic TV/PTV3 and the Jeffrey Harrington iDEAL oRDER/Psychic TV phenomenon.
As I do appreciate most of the recorded material of Psychic TV [the band] and as Jeffrey Harrington [from the same name phenomenon] compose also music that I hold dear [here you can
reach to it
] plus the fact that you can read about the band Psychic TV in other articles from previous dates, I have to made this clear as to not bring more confusion [or maybe should I ?..]
- Speed magazine interview excerpt :
- Speed magazine: "
What is iDEAL oRDER/Psychic TV
?"
- Jeff Harrington: "
It's what I call my psychic ability to make the lenses of television cameras that are broadcasting glow. The IdEAL ORDER part was left over from a collaborative grafitti art project I did with my spouse, Elsie Russell. I'm a big believer in not enhancing individual spiritual attributes with personality. By calling it something bizarre, like IdEAL ORDER Psychic TV it assumes a state unto itself. We named it that around the same time Genesis P-Orridge was getting his group together... synchronicity, I guess... When questioned, I've been clear about my non-affiliation, however, you're correct in assuming that Genesis' work has been beneficial to the goals of my project. I've contacted them a bit through email, answering questions and discussing about out mutual goals. My recent Scotland performance was curated by an associate of Genesis', Robert Frenais. "
The full interview is a must read and is to find just by a click
here
.
The iDEAL oRDER/Psychic TV Manifesto History Archive can be found
here
.
And best of all, aside of the Harrington music site, is the weblog for the IdEAL ORDER Project Including IdEAL ORDER Psychic TV and the IdEAL ORDER Mail and Street Art Project Archives; just in case one would like to find more resources, to track Psychic TV Zapping schedule and illuminatives camera or broadcast disruptions by photonic agents of bliss, it's all at reach
here
.