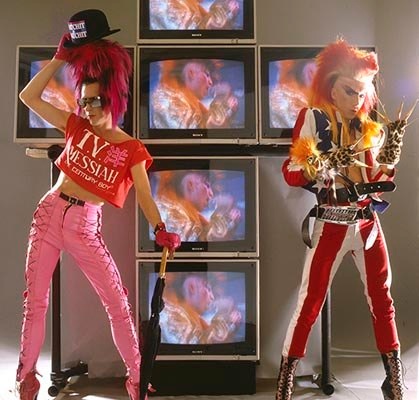 [
…
]
One day, as the record was already at the top of the charts, selling 60,000 copies a day in the UK, I got a call to come in and see the
Head of Business affairs
in his office. It was on a high floor I'd never been to before at EMI Manchester Square, where the big corporate boys lived.
On his desk was laid out the posters and all the press advertising and all the different copies of the single, looking great. "
We do have clearance for all these samples I assume
" he said looking me straight in the dark glasses pleadingly.....
"
What does clearance mean
"? I asked honestly. And then it dawned on both of us.
In this whole process, the movie references, the imagery, the actual voices of
Pacino, Arnie, Stallone, McDowell...
NO ONE had thought about whether it was legal to just put them on a record. No ONE!!!! Not Moroder, A&R, our lawyers, the Press or record reviewers. It just sounded great and no one had done it on a commercial single before that was now at number 1.
Stanley
madman
Kubric
himself had been shopping in his local high street and heard the record blasting out from a record store. The film was BANNED for Christsakes in the UK, Kubric had himself withdrawn it. Wish I could have been there and seen his face! I would have talked him into it, def, no problem - this was Concept Art Stanley, you love that don't you?
Corporate EMI
man held his head in his hands wearily. A lot of shit was about to hit the fan. A lot of really really nightmare expensive shit. The bill is still lounging on Sputniks giant, no, GIGANTIC unrecouped position today, hundreds of thousands, even though we sold millions of records."
This is a high tab project
" I assured him "
don't worry....we're gonna be millionaires!
"
Yea, AND it sounds great I said as I left. Damn - bit of a minor glitch. They had to redo all the samples for the USA release and it sounded shit. Hmmm. I've got about a hundred other samples I was just about to put all over the album too. I'm not ringing
Clint or Cruise
.
Oh well, lets get a drink.
Champagne everyone? We're a success boys.........
[
…
]
Source:
Sputnik World